Materials:  FRP + PU + FRP
Fiberglass:  brand Lamilux
Sealant:  brand Kommerling
Profile:  Fibergalss Profile
Transport:  CBU & CKD
Ice cream truck body kit is an insulation and freezing box set with high consisting prefabricated elements made by high-quality Fiber Glass materials from German LAMILUX and Best Glue from German KOMMERLING, And the PU foam adopt from the Germany brand PUREN, Assembled with high-strength fiber glass Profile for fast and easy box installation.
Non-Ferro can let the body get a good insulation function and light dead weight, we also Using an adhesive joining process with LAMILUX to employ the fiberglass sheets to construct boxes with completely vapour diffusion-tight surfaces to get better insulation and balance temperature inside.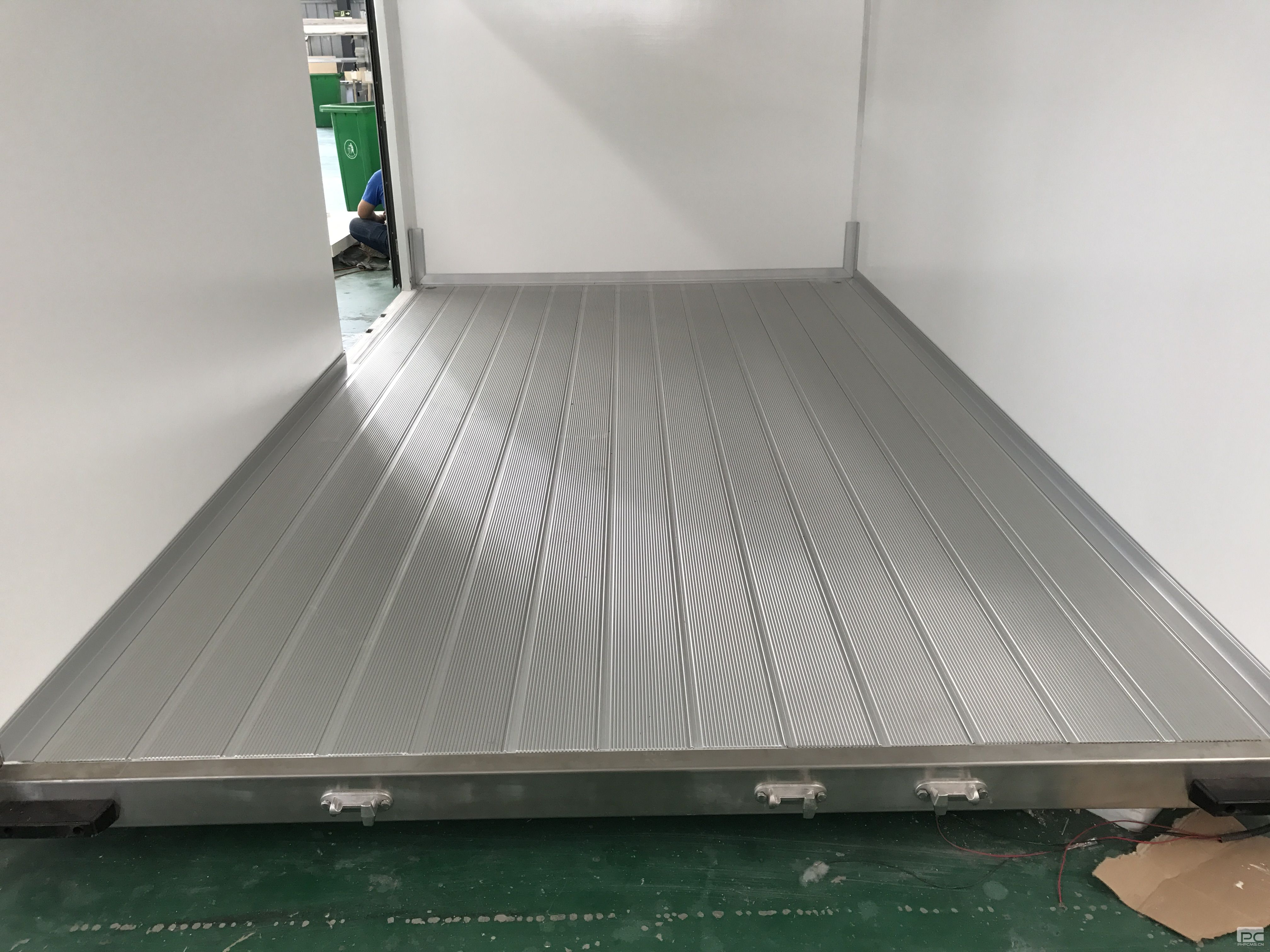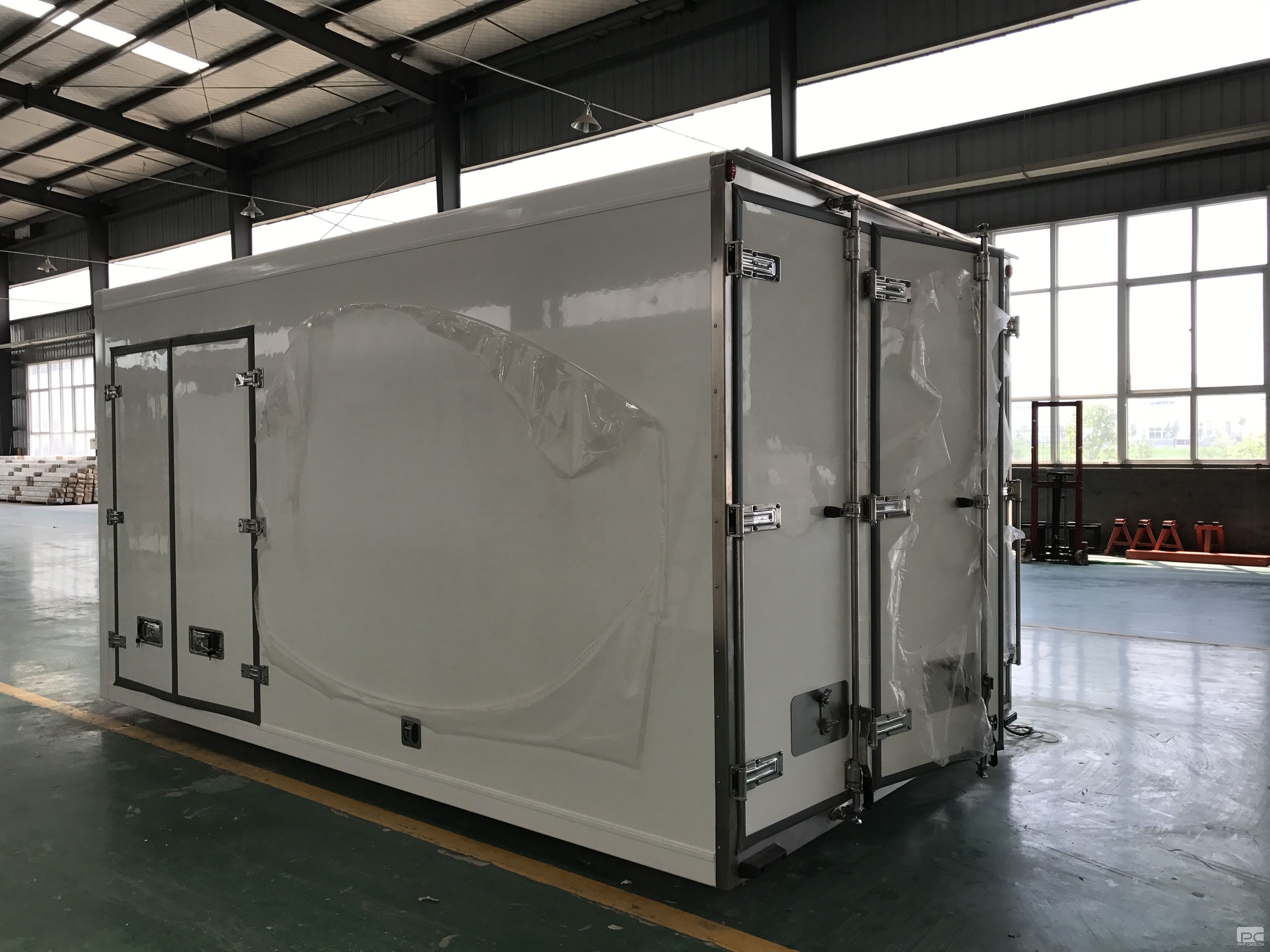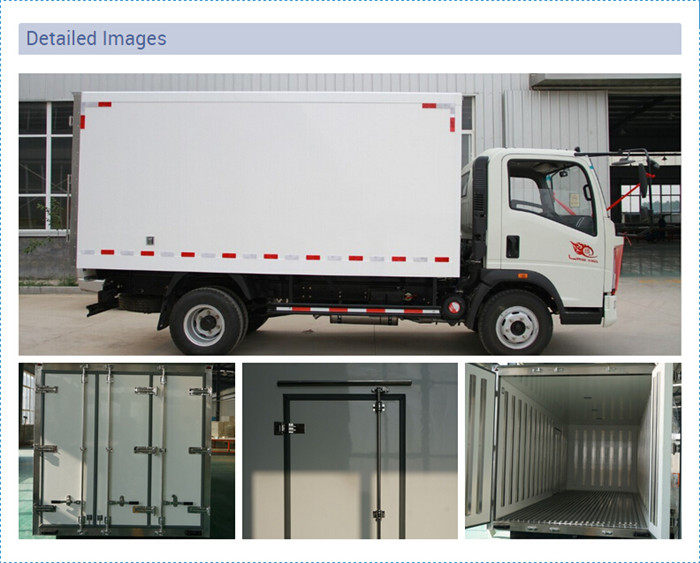 Advantages
Completely vapor diffusion-tight surfaces of FRP to get better insulation and balance temperature inside.
Non-Pollution and Special Function Box. German Original FRP of Lamilux can satisfied not only the best Mirror surface, but also can meet all the special requirements with their TUV certified AntiBac Panel, Anti-UV Panel, HACCP certified Panel. High Impact panel, Flex Gewebe Panel etc.
Best Materials to keep good insulation function and light for more capacity. The best Structure Material of FRP and Glue can let us cut the other embedded wood beams to reduce more than 20% of weight than the normal Sandwich panels.
Quick installation with Special Designed Fiber Glass Profile. With our patented FRP Profiles, we can assembly one box in one hours with 3 workers to save 80% of Labor cost.
Rapid order processing for all Size and shaped box (standard solutions can be delivered at short notice). With the Biggest Carve Machine in China, we can supply all different size and shapes Panels to fit for all the chassis of the world.
It is suitable for all vehicle brands and models.
Easy Repair with our 7*24 hours Service support.
Standard Specifications
Composite Truck Body Type
Pickup Refrigerated Truck body
Outside Dimension
9ft*7ft*5ft
Panel Structure
FRP+XPS+FRP
Panel Density(kgs/m²)
5.67
K-Value: W/(m²*K)
0.027
Front / Side / Rear Panel Thickness(mm)
84.5 / 84.5 / 84.5
Roof / Floor panel Thickness (mm)
105 / 105
Rear Door
Assembled double open door with stainless steel door frame
Box Structure
Panel assembled with fiberglass profile and fiberglass corner
Lights & Switch
LED; Water-proof; 12V/24V Convertible
Water Piping Set
Left and Right Front Corner
Options
Doors
Assembled triple open rear door
Side doors
Tail lift system
Profiles
Checker Aluminum floor cover
Small M channle
Aluminum T Rails
Internial side kick plate
PVC air curtain system
Cargo fix system
Refrigeration System
Engie-drive type refrigerator
Disel Power Type refrigerator
Trailer type refrigerator
Brand:Thermoking, Carrier,King brand
Ice cream truck body kit is an insulation and freezing box set with high consisting prefabricated elements made by high-quality Fiber Glass materials from German LAMILUX and Best Glue from German KOMMERLING, And the PU foam adopt from the Germany brand PUREN, Assembled with high-strength fiber glass Profile for fast and easy box installation.

Non-Ferro can let the body get a good insulation function and light dead weight, we also Using an adhesive joining process with LAMILUX to employ the fiberglass sheets to construct boxes with completely vapour diffusion-tight surfaces to get better insulation and balance temperature inside.

Advantages

Completely vapor diffusion-tight surfaces of FRP to get better insulation and balance temperature inside.
Non-Pollution and Special Function Box. German Original FRP of Lamilux can satisfied not only the best Mirror surface, but also can meet all the special requirements with their TUV certified AntiBac Panel, Anti-UV Panel, HACCP certified Panel. High Impact panel, Flex Gewebe Panel etc.
Best Materials to keep good insulation function and light for more capacity. The best Structure Material of FRP and Glue can let us cut the other embedded wood beams to reduce more than 20% of weight than the normal Sandwich panels.
Quick installation with Special Designed Fiber Glass Profile. With our patented FRP Profiles, we can assembly one box in one hours with 3 workers to save 80% of Labor cost.
Rapid order processing for all Size and shaped box (standard solutions can be delivered at short notice). With the Biggest Carve Machine in China, we can supply all different size and shapes Panels to fit for all the chassis of the world.
It is suitable for all vehicle brands and models.
Easy Repair with our 7*24 hours Service support.

Standard Specifications
Composite Truck Body Type
Pickup Refrigerated Truck body
Outside Dimension
9ft*7ft*5ft
Panel Structure
FRP+XPS+FRP
Panel Density(kgs/m²)
5.67
K-Value: W/(m²*K)
0.027
Front / Side / Rear Panel Thickness(mm)
84.5 / 84.5 / 84.5
Roof / Floor panel Thickness (mm)
105 / 105
Rear Door
Assembled double open door with stainless steel door frame
Box Structure
Panel assembled with fiberglass profile and fiberglass corner
Lights & Switch
LED; Water-proof; 12V/24V Convertible
Water Piping Set
Left and Right Front Corner

Options
Doors
Assembled triple open rear door
Side doors
Tail lift system
Profiles
Checker Aluminum floor cover
Small M channle
Aluminum T Rails
Internial side kick plate
PVC air curtain system
Cargo fix system
Refrigeration System
Engie-drive type refrigerator
Disel Power Type refrigerator
Trailer type refrigerator
Brand:Thermoking, Carrier,King brand